The Fit4less brand received international media coverage this week as a result of a tongue-in-cheek billboard advert that sparked a national debate.
The coverage which saw Fit4less featured in The Sun, The Daily Mail, The Telegraph, The Mirror, Metro, Cosmoplitan, Mashable, The Derbyshire Telegraph, talkradio and Channel 5's The Wright Stuff has certainly succeeded in getting people talking.
The story was also the second most read article on the BBC News website on Monday night and was translated in newspapers in Russia, Finland, China and Canada.
In Wednesday 6th April's The Sun newspaper, columnist Jane Moore puts it best in her article "If we can't take a fat joke we've got a big problem"
An advert that has demanded attention…
On Channel 5's The Wright Stuff a celebrity panel debated the advert for 10 minutes. Watch the video by clicking the image below and fast forward to 01:02:58 through to 01:13:00 to see what they had to say.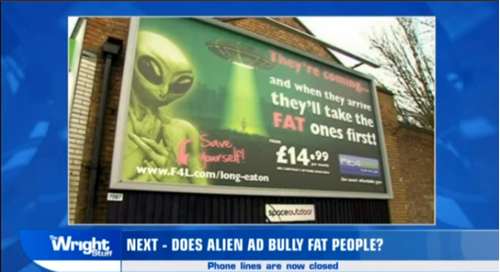 Whilst the Alien billboard has sparked debate, the advert has been received by the vast majority of people in the manner in which it was intended, as light-hearted humour.
Read the member reviews across any of our Fit4less clubs Facebook pages and the hundreds of member testimonials we receive and you'll soon learn that this is a brand that is dedicated to helping people…
…helping people to lose weight…
…helping people to get fitter…
…helping people to train for sporting competitions and…
…helping people enjoy fitness in a fun and friendly environment, with top quality fitness equipment at an affordable price.
At Fit4less we don't take ourselves too seriously. Our tongue-in-cheek, irreverent style is used throughout our Fit4less clubs to create an environment where everybody can get fit and have fun doing it.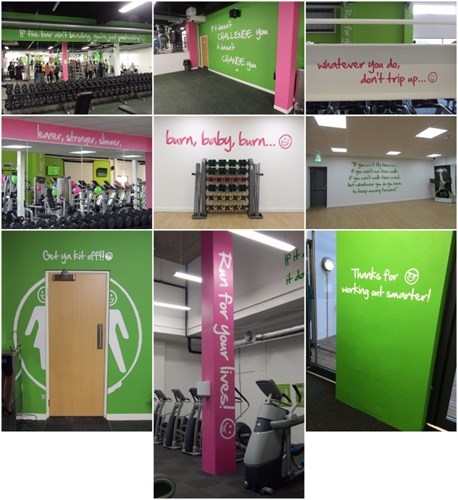 Above: Our tongue-in-cheek style is used throughout our Fit4less clubs to create a fun fitness environment.
In today's crowded media marketplace, where the demand for attention is a premium you have to be different to stand out. énergie Chairman and CEO Jan Spaticchia commented: "All of our clubs are operated by owners who care about their local communities and are passionate about our mission to democratise fitness and support the industry commitment to get more people, more active more often. We believe that if we are going to reach more people as a sector then we need to stop taking ourselves so seriously and realise that if we want to attract normal people, then we need to be willing to poke fun at ourselves and our irreverent messaging is designed to do exactly that."