For business and franchise owners, the decision to diversify your portfolio and invest in other industries is a strategic one with multiple factors to consider. One of these key considerations is selecting the right sector to diversify into.
At énergie Fitness, we have seen a growing trend of existing business and franchise owners diversify and expand their portfolios with a gym franchise. This includes fast-food franchisees such as Aran, who expanded his family business from owning multiple Domino's Pizza franchise units to now also owning multiple énergie Fitness gyms.
For Aran, the opportunities for business growth within the health and fitness sector, combined with the positive impact that gyms have on people's lives were two of the key reasons for diversifying into health and fitness.
In this article, we look at 5 reasons why the health and fitness sector makes a strong investment proposition.
1: Strong consumer demand fuelled by a growing recognition of the importance of health and wellbeing
The COVID-19 pandemic put a renewed focus on the importance of health and wellbeing. This even led to government-backed advertising campaigns promoting the benefits of exercise and healthy eating in fighting off illness and disease.
According to Mintel's Exercise Trends – UK 2021 report, 70% of consumers said that COVID-19 has made them more aware of the importance of their physical health.
As a result, people started to take their health and wellbeing more seriously, and this is reflected in the numbers.
Statistics produced by Deloitte in their 2022 European Health & Fitness Market Report, revealed that the number of people with a gym membership in Europe increased by 1 million (or 2 per cent) during 2021 – up from 55.2 million in 2020 to 56.3 million by year-end 2021.
This growth in memberships came at a time when health and fitness operators across Europe lost more than 40 per cent of their operational days during 2021 according to the report.
Prior to the pandemic, the health and fitness sector enjoyed a golden period with consistent growth in the market. Fast forward two years and the latest statistics quoted above highlight that the demand for health and fitness is now stronger than ever across Europe.
2: The positive impact of exercise on mental health
It has been widely documented that exercise can play a pivotal role in improving mental health. This became even more important during the pandemic, where 68% of consumers who exercised said that COVID-19 had made them more aware of the importance of mental wellbeing.
With this in mind, it is important to recognise the significance and positive impact that opening a new gym can have on the local community.
énergie Fitness Hayes opened in the summer of 2021 shortly after lockdown restrictions were lifted, receiving an extremely positive reaction from the local community.
At the gym's opening party, franchise owner AJ commented: "It's great to have the gym up and running. And in all honesty, it's so nice to have something positive coming out of COVID. So many people are in really bad places physically, mentally, emotionally, and I've had a lot of people that have come in and say they're so happy there's a gym in the area now. Something that can just uplift their spirits."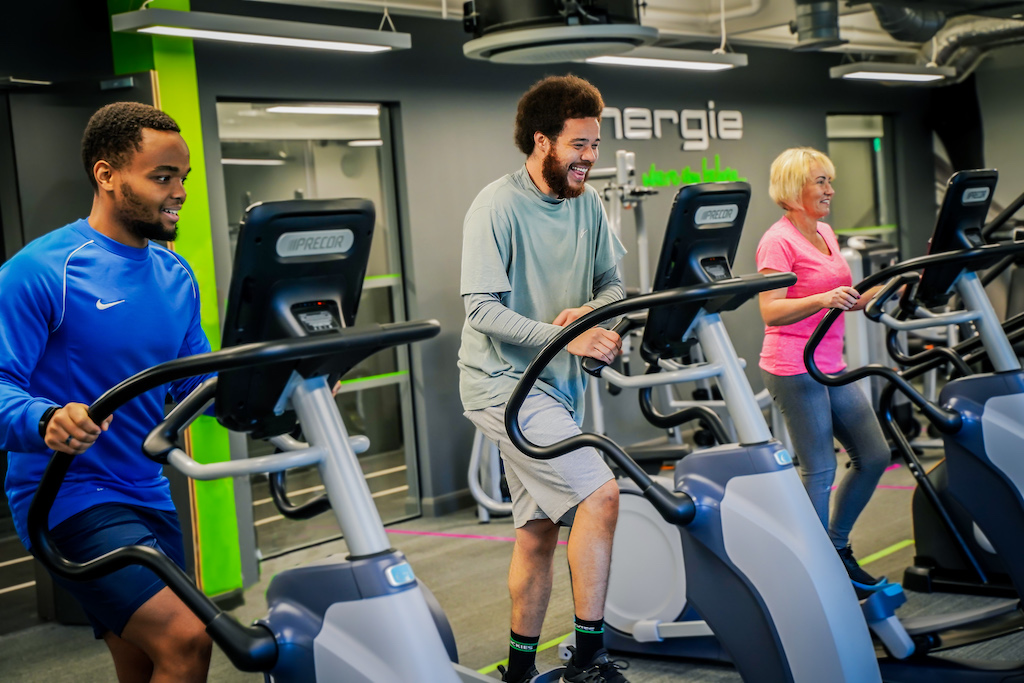 3: Gyms create communities that foster connection
Gyms are social spaces where people come together. After lengthy periods of isolation in lockdowns, people are seeking to exercise in environments where they can connect with others.
Gyms are places for everyone, with the right set up, atmosphere and approach, they can literally be the heart of the community. Gyms are spaces where people can connect and make friends, pick themselves up after a bad day, set and beat personal bests and literally transform their lives through regular attendance.
When run as locally owned businesses, gyms can become even more active in their local communities, whether that's involvement with local charities or putting on events to collaborate and co-promote with other local businesses.
4: Service matters
As a business owner, there are certain variables that you can control and the level of service that your business provides fits firmly in this category.
According to recent research, customer service expectations have risen sharply since the pandemic . This increase comes as a direct result of the limited contact that people have experienced over the past two years during the pandemic.
Consequently, consumers are placing more importance on the service they receive, with factors such as trust, relationship building and empathy becoming increasingly important when consumers decide who to do business with.
This is one area where your business can set itself apart from the competition and truly stand out. In the health and fitness industry, a personal approach to service can make all the difference. Even the smallest touch points such as the warm greeting given to a member when they walk through the door, filling up a member's water bottle whilst they are exercising, complementing a member after finishing a demanding exercise class can go a long way to making someones day.
At énergie Fitness, we have always put customer service at the heart of our offer, developing an award-winning training programme, that helps to train our franchise owners staff teams in delivering world-class customer service the énergie way.
5: The power of predictable revenue
One of the main benefits of a gym franchise model is the simplicity of the business operation. Many gym members pay monthly by direct debit meaning that it is easier to predict your membership income based upon the number of members you have.
If you're a multi-unit operator, this makes it easier to monitor the performance and predict revenue and returns across your network of gyms.
By offering a range of membership options, each with increasing value in the membership offer, you can drive up the membership yield (the average membership fees across your gym or network of gyms).
Investing in the health of your community
Taking all the above factors into account, it's clear that operating a gym or network of gyms can deliver significant value for the local communities where you choose to operate. At the same time, owning a gym franchise, whether that's a single or multi-unit operation presents a solid and scalable business model and investment opportunity within an industry that has stood the test of time.
If you're ready to learn more about diversifying your portfolio or starting your first business with a gym franchise, then request a franchise information pack.
Sources:
Mintel's Report Exercise Trends – UK, 2021
Why Customer Service is Important: 16 Data-Backed Facts to Know by Swetha Amaresan